Skip to Content
Hammer's History
Hammer's stores got their start in Guntersville, Alabama in 1941. A.B. Hammer, Sr., whose background in retail stretched back to old line stores like Dobson's and Watson's in Knoxville, TN, rented an empty building in Guntersville and put in a salvage stock to sell out. With the help of his son, Bernard, Jr., the store grew and before long his other children and their spouses started other locations in Tennessee. Store locations have been owned and operated A.B. Hammer, Jr., Earl Hammer, Bob Hammer, Sr., Helen Hammer Kern, Emily Hammer Hall, and Fred Hammer. Over the years the children and grand-children of the original owners have entered the business introducing new locations but always keeping true to the original idea that Hammers' is a bargain hunter's paradise.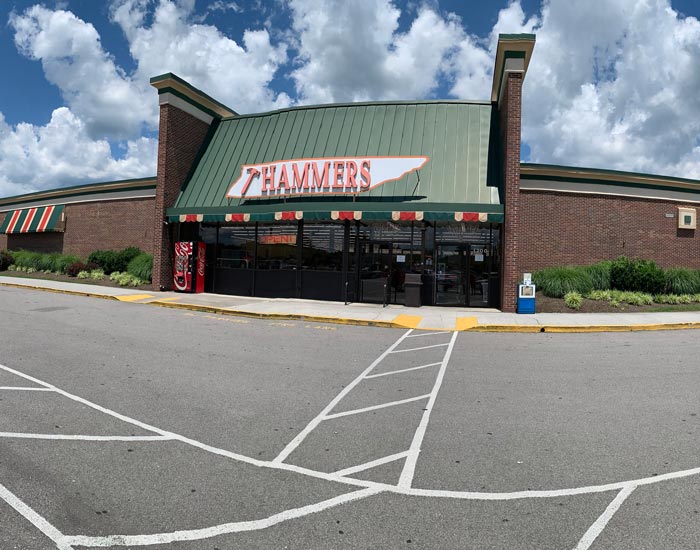 Your One-Stop-Shop
All Hammer's locations offer a mixture of first quality, closeouts, and irregulars of famous brand merchandise. Shoppers can find fun and fashion goods for men and women, along with top name hunting and work wear, shoes, and boots. Bargain hunters can also find quality accessories for the home like rugs, home decor, and seasonal florals.
Today stores are located in Clinton, TN; Knoxville, TN; Sevierville, TN; Wartburg, TN; and New Tazewell, TN. Each store is still owned and operated by family members who focus on bargains, a fun shopping experience, and customer satisfaction.
So from our family to your family — Come see us at Hammer's!
Visit Hammers for an Adventure and a Bargain!